CPT Dion J. Burmaz Memorial Fund
2022 Recipient:  Karsen Flom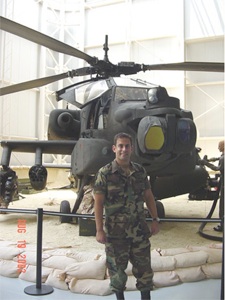 Some leaders stand atop an ideology, some, fame or fortune.  CPT Dion J. Burmaz transcended these, capturing respect from people around him.  It was not just his charisma, but qualities he honed and polished as he, himself grew and learned.  Respect for his Soldiers was the hallmark of his leadership and in turn his Soldiers loved him as their leader.  In his short time with us, Dion mastered the profession of arms and exemplified the Army's Values and warrior ethos, a legacy he now leaves for others to aspire.
Born in Fullerton, CA in 1976, CPT Dion J. Burmaz was blessed with his parents Darko and Piedad Burmaz, who nurtured his growing leadership and now want to impart these same qualities in other promising UCSB Army ROTC students through this scholarship award.
Dion started perfecting his leadership skills early, heading his scout troupe, captaining his water polo team at Sunny Hills High School, and rising to president of his fraternity Pi Kappa Alpha while attending UCSB.  His love, however, was always toward the military and while he had offers to attend military academic institutions, he chose Army ROTC at UCSB.  Of course, he excelled as a UCSB Army ROTC Cadet and a student in the university's Law and Society program.  His achievements earned him his top branch choice, Aviation, where his passion for flying became a reality.
After his flight training at Fort Rucker, Dion was assigned to the 3rd Battalion, 229th Aviation Regiment (Attack) at Fort Bragg, where he served as an attack helicopter platoon leader and pilot.  He later served as the Commander of Delta Company, 1st Battalion, Second Aviation Regiment (Attack) in Korea.  In charge of managing multi-million dollar equipment, Dion captured the admiration and respect of his superiors and troops alike.  His achievements as a leader in the maintenance company would earn him a coveted second command with Alpha Company, a unit comprised of elite Apache Longbow helicopters supporting the Army's Special Operations Forces in the region.
It was in pursuit of excellence during this command and his love for flying that Dion paid the ultimate price when flying a mission over the Korean Peninsula.
His influence continues to live through his family, friends, and Soldiers who, through his example, established a scholarship in his memory.  The scholarship is intended to inspire other UCSB Army ROTC Cadets to attain high standards and live by the Army values and warrior ethos as Dion did.
The Department of Military Science, in consultation with Dion's family, will award the annual scholarship in his memory to an academically aligned and contracted Cadet who has demonstrated excellence academically, volunteered in community service or on-campus activities, participated in Army ROTC extracurricular activities, and adhered to the Army's seven values of Loyalty, Duty, Respect, Selfless Service, Honor, Integrity, and Personal Courage.  The department may require applicants to include an essay as part of the selection criteria.
If you are interested in finding out more about the fund, and the scholarship it provides, contact the UCSB Development Office at (805) 893-2774.  If you would like to make a donation to the fund, please make your checks (1) payable to 'UCSB Foundation' AND (2) indicate in the check memo 'For  CPT Dion J. Burmaz Memorial Fund.'  Please mail to: 
Development Office
ATTN: Gift Processing
University of California, Santa Barbara
Santa Barbara, CA 93106-2013
<