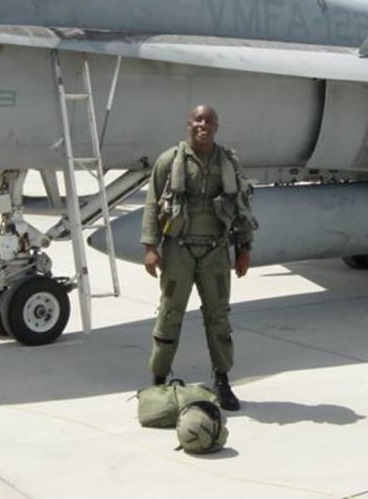 2022 Recipient: Quinn Schroeder
The Live Like Regi Alumni Scholarship Fund is established in memory of Captain Reginald "Regi" Jerome Johnson, USMC to honor his outstanding contributions and service to our country as a fighter pilot in the U.S. Marines Corps, and his unrelenting commitment to his far-reaching circle of friends. The Fund is created through the generosity of his many friends, family and those that served with him. Regi received his B.S. in Math from UC Santa Barbara in 1994, was a hurdler on the UCSB Track and Field team and fraternity brother of Phi Sigma Kappa.
The Fund will support undergraduate students enrolled in the Reserve Officers' Training Corps (ROTC), with a preference toward students studying in STEM majors (Science, Technology, Engineering and Math) and/or participants in an intercollegiate sport.
The Live Like Regi Alumni Scholarship Fund is funded through donations from individuals wishing to honor Regi's generous spirit and inspirational commitment to others. The goal is to create a lasting endowment that will bear Regi's name in perpetuity - supporting the next generation of heroes. Please consider your support by making a gift.
Click to Give to Regi Alumni Fund via credit card.
You may also mail your donation by check to:
Department of Military Science
University of California, Santa Barbara
Building 451, Mesa Road
Santa Barbara, CA 93106-7070
Please note in the comment section on your check which scholarship fund your donation is for if you have a preference.